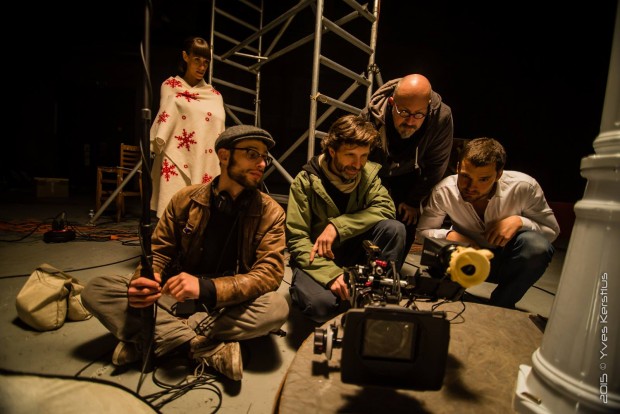 The D16 with "playback" at the 2015 Bruxelles International Kino Kabaret.
C-Side is privileged to be testing the latest firmware update for the Digital Bolex (version 1.2.7.5), what's new:
– Playback !
– Erase last clip
– 2K DCI format (2048 x 1080)
– 25 ips
– Conformation from proxies, via XML, to the original DNGs !
The last little problems and things missing have now been solved or added. The D16 has reached maturity. Discover what the camera is capable of*. Our camera is fully kitted with monitor/EVF, a cage, base plate, 15mm rods, external V-lock plate and handles. Complete this kit with a classic Super 16mm lens, the Canon 8-64mm T2.4, and because our camera has a PL mount, it is compatible with all 35mm or 16mm PL mount lenses.
UPDATE: firmware 1.5.1 "ELF" & 2 TB SSD for our D16

Probably the last firmware for the now discontinued D16 has added "Bolex Log" and "Bolex Gamma"
Available here D16 firmware v1.5.1
To instal Digital Bolex Utility app v1.0.0.6 (mac)
A good article about this update (june 2016) at 4K shooters
In case you run into problems, reinstalling the firmware is one of the first recommendations from Joe Rubinstein, the creator of the DigiBolex, who continues to maintain them in 2021. Our Digital Bolex #49 has had a total overhaul, and now has a 2TB SSD, allowing to record over 6 hours of raw uncompressed 2K video. Another bit of advice, if you have problems with your SSD, it can be formatted on a Mac, in HFS+, name it "D16_SSD" and create a folder at the root level called DCIM.
Or more precisely, what is its Super16 sized Kodak CCD sensor capable of?! The CCD has a global shutter, so no "rolling shutter" effect! Its photosites are closer together, and proportionally larger than that of an equivalent sized, and with the same pixel count, CMOS sensor, so less "moiré" problems, and CCDs are considered having a superior color rendering, particularly of skin tones, whatever the lighting conditions.