(V.O. Fr.: UN ARCHITECTE DANS LE PAYSAGE)
Documentary by Carlos Lopez.
2009 / Switzerland / 60'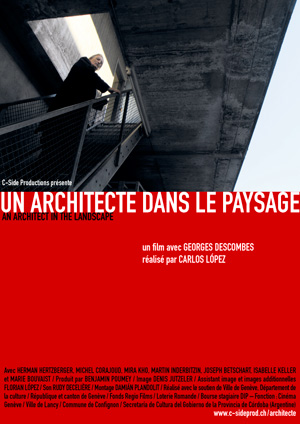 SUMMARY:
What room is there, in the landscape of our cities, for imagination, emotions… for our humanity? 
This question resides at the very heart of the approach chosen by Georges Descombes.
As seen in a forest path part of the "Voie Suisse" network or in the refurbishment of an area devastated by an airplane crash near Amsterdam, the work of this landscape architect focuses on the notion of "just intervention". Georges Descombes and some of his travelling companions, such as Herman Hertzberger and Michel Corajoud, speak of their work and cast a keen eye on modern architecture, which they find too withdrawn from real life. This film is a poetical and philosophical journey that will please all types of audience.
"It's possible to live without philosophy, without love, without music,… but is it worth it?"
"It's possible to live with an architecture devoid of artistic dimension,… but is it worth it?"
The film was made with the help of the City of Geneva – Department of cultural affairs; the REGIO Films fund, the Republic and Canton of Geneva – Department of education – DIP Internship fund: Cinema, The Swiss Lottery, the Commune of Lancy, the Commune of Confignon.