A film by Andrew Cohen, being edited / A-C Films
Switzerland, in post-production with C-Side Productions
SYNOPSIS:
Tibetan culture and language are disappearing. And there's a new contemporary art movement that confronts this destruction with their imaginative and pioneering work. These artists are the first generation to break free from Chinese censorship and cultural control, as well as from twelve hundred year-old religious painting practices traditionally imposed upon Tibetan artists.
The artists transform tradition both ancient and modern, into a never-before-seen contemporary visual language. By cleverly fusing traditional Thangka with Revolutionary Realism in a pop style, the artists have invented a new genre one might call Spiritual Pop. The emerging voice of the Tibetan avant-garde struggles to be heard. Caught between an oppressive Chinese censorship –with its constant threat of yet another military crackdown– and the Dharamsala orthodoxy, their new art transforms restrictive artistic practices into edgy modern images that comment on the radical changes –brought about by the influx of the corporate capitalism and consumerism– that are eroding the spiritual landscape of Tibet.
For those who still cling to the dusty clichés of an imaginary Tibet (the primitive, spiritual Shangri-La of western invention) or to the mythical and conceptual Tibet of an aged orthodox government-in-exile (that thinks it will return one day to rule happily ever after) we hope this film will offer a contemporary picture of a spiritual land in the throws of globalization, seen from the daily lives of artists, ordinary Tibetans and religious leaders both living in and out of Tibet.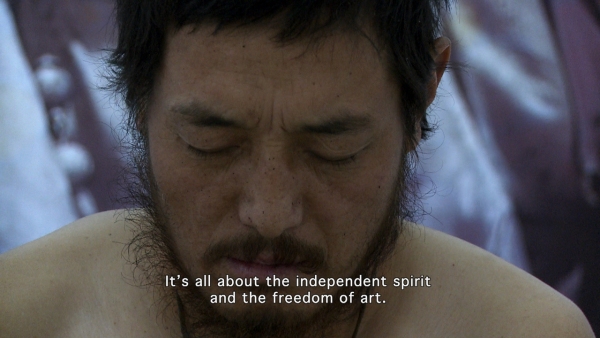 OTHER FILMS (A-C Films) IN POST-PRODUCTION: