A documentary feature film by Nicolas Wagnières
Currently being developed.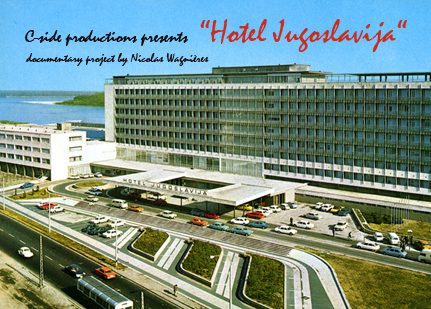 Hotel Jugoslavija was erected in Belgrade in 1989. It was the biggest hotel of the Balkans under Tito, and it formed part of the country's history until its collapse. The documentary follows the efforts to transform it into a new luxury hotel, and focuses on the establishment's history, which was marked by the various phases of the country's transformation. The rehabilitation of the hotel is the symbol of a new identity that is being built, while Serbia is negotiating its adhesion to the EU.
Project developed with the help of the City of Geneva – Department of cultural affairs, the OFC (Succès Cinéma), the Canton and Republic of Geneva – Literature grant, SCAM – "Brouillon d'un rêve" grant.
CONTACT INFORMATION:
Benjamin Poumey / C-Side Productions / +41 22 800 38 90 / bpoumey (at) c-sideprod.ch