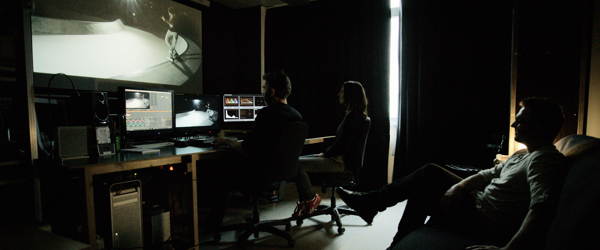 Newly equipped in 2022 with a MacStudio Ultra, and in 2023 with an Eizo CG319X ColorEdge 31.1″ DCI-4K monitor. It also has two screens: a BenQ 32″ (4K) and a 24″ Eizo, and BlackMagic Ultrascopes on a separate screen. Media is read off a 42To Thunderbolt 3 RAID.
Color grading is done with DaVinci Resolve in HD, 2K or 4K. This space offers optimal working conditions. The configuration is based on the 2022 MacPro Studio Ultra. Monitoring is done on an Eizo CG319X ColorEdge 31.1″ DCI-4K and a JVC DLA-RS20 projector is available. Gradin is done with a Tangent Wave control panel and the video signal is measured with Blackmagic Ultrascopes. We propose mastering to any format: DCP*, MXF, Quicktime files, ProRes, h264, DVD, Blu-Ray, etc.
* See the "DCP Mastering" page.