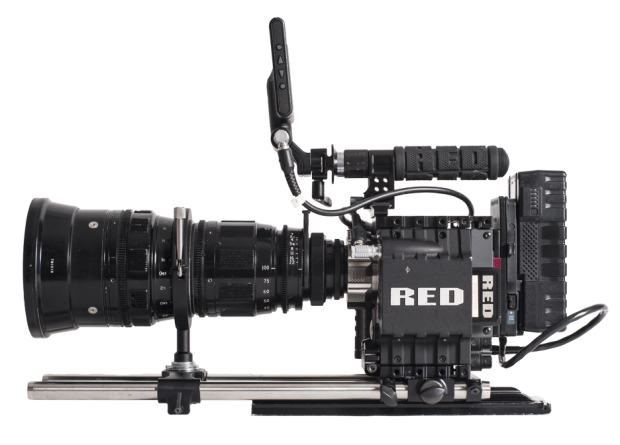 The Scarlet-X is part of Red's second generation of camers. It is the Epic's little sister, similarin nearly every point*. The X refers to it Mysterium-X sensor, which has a base sensitivity of 800 iso. The sensor's dimensions are those of a 35mm film frame. This sensor, combined to a PL mount allows for the use of legacy 35mm cinema lenses. The mount can be changed for a Canon EF or Nikon mount.
Our Red Scarlet Kit includes: PL or Canon or Nikon mount, 5.0 Touchscreen, +1 Module, Red Bomb EVF w/ Wooden Camera EVF mount, two 128 Gb SSDs with USB-3reader, a SideHandle with 4 RedVolts, 3 V-lock batteries with charger, 19mm rods (your choice of 12″, 15″, 18″ or 24″), an Action Products XLR adaptor, a Lemo to 3x BNC cable for TC, Genlock and trigger.
* The only difference between the Epic and Scarlet is the latter cannot go as high up in frame rates. The Scarlet is recognizable by its grey body color (vs the Epic's black body).