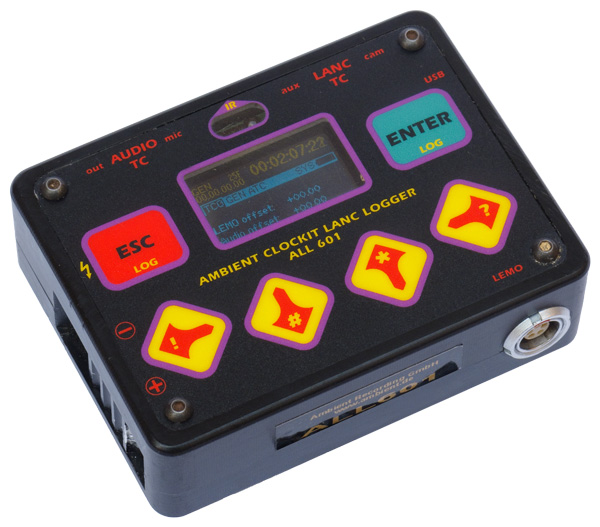 Built around a powerful ARM processor the Lanc Logger was designed to fit unobtrusively onto even the smallest consumer grade cameras.
Bridging between SMPTE, LANC and MIDI time code formats it allows for a complete integration of equipment without native TC capabilities into a professional, time code based production workflow.
Being able to create an EDL log file referring LANC or record run TC to Time of Day on set makes import, alignment and file administration a breeze, saving not only time and money but allowing projects hardly thinkable of before. Cameras without TC functions (DSLR, …) can record the LTC directly on an audio track and resync their video files via most NLEs or AuxApp.
Final Cut Pro users can now fully automatize batch processing and import with the available AuxApp application.
Features
Highly accurate Clockit time code generator, reader, and converter.
Logging of LANC or LTC record-run time code, start and stop time against free-run TC.
Converts LANC > LTC / MTC, LTC > MTC, MTC > LTC with selectable offset.
Comprehensive interfacing with 5 pin Lemo LTC, mini jack audio TC, LANC in/outputs and USB.
Audio TC adjustable from mic to line level for recording time code to audio track.
MIDI time code via generic USB audio driver on PC and MAC
TC interface with generator for Silicon Imaging SI2K camera and DVR software.
Download of log file and firmware updates though USB in mass storage mode.
Six button keypad and OLED display for easy configuration and manual logging.
Coloured OLED display for full status control.
External powering through LANC and USB.
2 x AAA cells for autonomous power and backup.
Power saving standby mode.