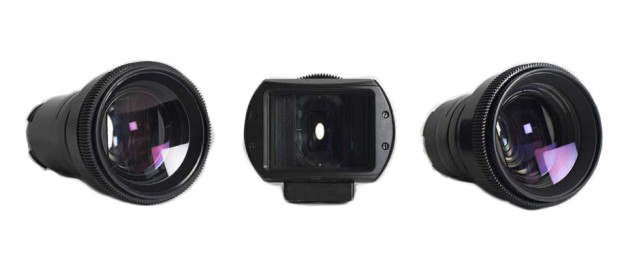 Pour de vraies images cinemascope, une magnifique série de trois objectifs anamorphiques 2:1, compression de l'image par deux horizontalement. La série est composée d'un 35, d'un 50 et d'un 75mm. Le champ de vue est donc deux fois plus large que celui d'un objectif sphérique à longueur égale. Le 35mm a, par exemple, un champ de vue correspondant a un 17.5mm.
La technologie Lomo en matière d'objectifs anamorphiques est à l'origine de celle utilisée par Hawk, qui sont les premiers fabricants d'objectifs anamorphique aujourd'hui. Ils ont après la fermeture de l'usine Lomo engagé les ex-employés de Lomo, et leurs premiers objectifs anamorphiques sont en tout point similaire aux Lomos.
Benoît Debie, connu entre autres pour "Irreversible" et "Enter the Void" de Gaspard Noé, ou encore "Everything Will Be Fine" de Wim Wenders, a choisi d'utiliser des Lomos anamorphiques pour une partie de "Spring Breakers" de Harmony Korine.