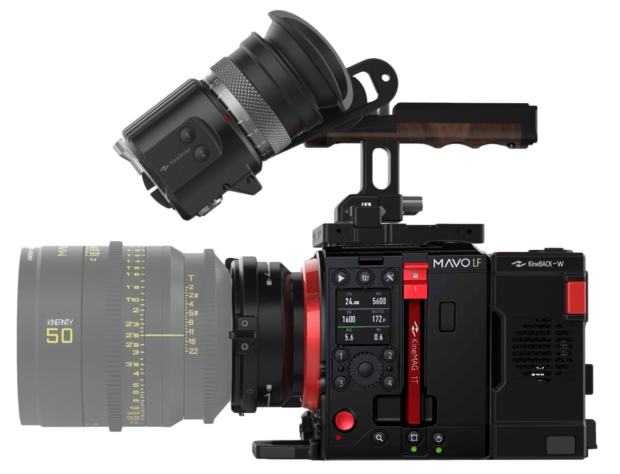 An entirely new perspective

The MAVO LF (large format) is equipped with a Full Frame CMOS sensor, with an effective size of 36 x 24 mm and a 6K resolution : 6016 x 3984. Compared to a S35 (Super 35mm : film camera) sensor, the Mavo LF's Full Frame sensor is 2,25 times larger, the exposed area is larger, the SNR (Signal to Noise Ratio) is better and the image sharper. Furthermore, the Full Frame format offers a wider perspective, a shorter depth of field and a more immersive presence. You can not only use cinema lenses made for Full Frame sensors, as well as photography lenses through the use of adaptors, but also all lenses made for Super35, Micro 4/3 and even Super16.
Dual Native ISO : 5120/800
The all new Full Frame CMOS sensor of the MAVO LF not only offers a larger pixel size but also a dual native sensitivity of 5120 and 800 ISO. The accoustic performances have been improved over the TERRA 4K. You can put your trust in its native 5120 native ISO when lighting is low, even in cases with no light at all.
Compact format
Although the MAVO LF records 6K+ images with an all low noise and high speed CMOS sensor, the weight of the camera body is only 990g and its size is half or even a third of other "MINI" cinema cameras. Due to its small form factor close to a DSLR, the MAVO LF is compatible with one man light weight shooting as well as with a variety of stabilisers.
Ultra fast Post-Workflow : ProRes or cDNG
The MAVO LF records up to 4K ProRes4444XQ and even 6K ProRes4444 allowing for an ultra fast workflow with very high quality images. Apple ProRes is compatible with all post-production software. It can also record compressed RAW in cDNG format without requiring an external recorder. The current firmware allows for 3 compmression ratios 3:1, 5:1 and 7:1. Davinci Resolve accepts cDNG natively, making it possible to import, edit and classify within Resolve, simplifying considerably the RAW workflow.
The Mavo LF KIT includes: a PL mount, a 7″ Ultrbright KinoMON (to be released), two KineMAG SSDs of 1TB and 512BG with a USB3 reader and a USB-C reader, a KinoGRIP with 2 batteries (Sony BPU-30 type), a KineBack-W for V-mount batteries with HD-SDI(Timecode/D-Tap, 4 V-lock batteries with a double charger, 15mm rails, a Movcam shoulder pad specially adapted to the Mavo LF.
Recommended: Shape or Blue Handles, Arri MBB-1 mattebox, SmallHD 702 Ultrabright monitor, WC C-Box, TVlogic 5″ monitor