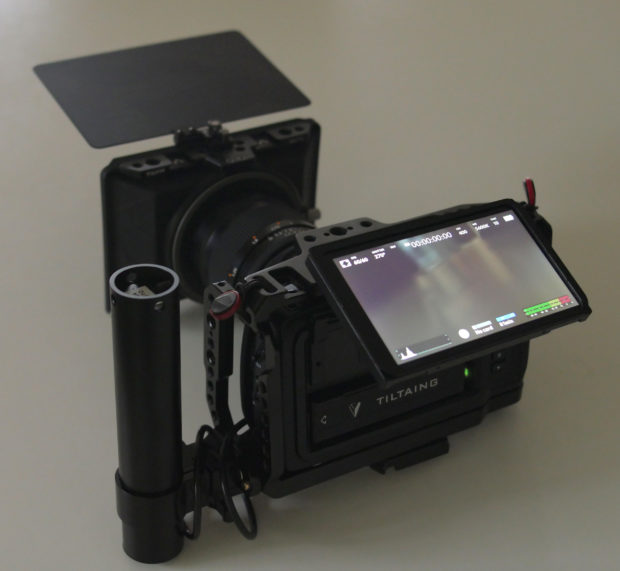 Petite, légère, haute qualité

La Blackmagic Pocket Cinema Camera 4K comprend un capteur 4/3 de pouces au format DCI avec une résolution de 4096 x 2160. Monture native m43 avec en option un Speedbooster Metabones 0.71x Ultra permettant de mettre des objectifs à monture EF (Canon), ou des adaptateurs pour objectifs PL ou Nikon. Notre caméra a été modifiée avec le kit Tilta qui fixe l'écran sur des charnières permettant de l'incliner vers le bas ou le haut, pour des prises de vues dans diverses positions (plongée ou contre-plongée). Cette modification permet aussi l'utilisation de supports d'enregistrement qui se fixent derrière l'écran, permettant l'usage de disques SSD ultras rapides de grosses capacités. La caméra est livrée avec deux disques, de 1 To et 2 To respectivement. Notre caméra est également équipée d'une poignée Voltacinema qui contient une batterie (interchangeable) 3 fois plus puissantes que les batteries LP-e6. Nous incluons 4 batteries et un chargeur double lors de toute location.
Options: outre le Speedbooster en monture EF, les montures PL et Nikon, nous proposons un viewfinder Kinothenik qui permet de s'immerger dans l'image, de cadrer même en plein soleil et facilite le mise au point. La BMPCC4K est également compatible avec notre stabilisateur Zhyun Crane 2.
Double ISO natif : 400/3200
La BMPCC4K a un double ISO jusqu'à 25 600 et est donc optimisés pour minimiser le grain ou le bruit dans l'image tout en conservant toute la plage dynamique du capteur. L'ISO natif à 400 est idéal pour des scènes avec un éclairage de plateau. Le second ISO à 3200 est quant à lui parfait pour les environnements peu lumineux. Comme le gain est ajusté automatiquement alors que vous réglez l'ISO sur la caméra (l'ISO supérieur s'enclenche à partir de 1250 ISO), il devient facile de capturer de magnifiques images même dans des environnements sombres.
Résolution et fréquences d'enregistrement

La BMPCC4k peut être utilisée pour filmer à toutes les résolutions et fréquences d'images standard, de la HD jusqu'au 4K DCI. Vous pouvez capturer des images fixes de 8,8 mégapixels. Vous pouvez filmer jusqu'à 60 im/s en 4K DCI à 4096 x 2160 et à 60 im/s en Ultra HD à 3840 x 2160. Et il est possible d'aller jusquà à 120 im/s en HD 1080 !
Post-Workflow ultra rapide : ProRes ou B-RAW
La BMPCC4K enregistre dans des formats de fichiers standard et ouverts, vous ne perdez pas de temps avec le transcodage. Vous obtenez des fichiers compatibles avec tous les logiciels de post-production et pourrez commencer rapidement la post avec DaVinci Resolve Studio ou le logiciel de votre choix. Il est possible d'enregistrer en Apple ProRes 10 bits ou en Blackmagic RAW 12 bits (braw). Les fichiers d'enregistrement sont pris en charge par tous les systèmes d'exploitation et vous pouvez formater vos cartes ou disques de stockage en HFS+ pour Mac ou en ExFAT pour Windows et Mac.
* Le KIT BMPCC4K comprend: monture native M4/3, cage SmallRig et la possibilité de mettre des rails de 15mm, deux SSD Samsung de 2To et 1To respectivement, 1 poignée Voltacinema et 4 batteries (autonomie 90min par batterie), un chargeur double pour batterie Volta.
Autres options: adaptateurs de montures pour objectifs PL, Nikon ou EF (Speedbooster en EF seulement), plaque d'alimentation pour batteries V-lock, moniteur SmallHD 502 avec SideFinder, épaulière, poignées.