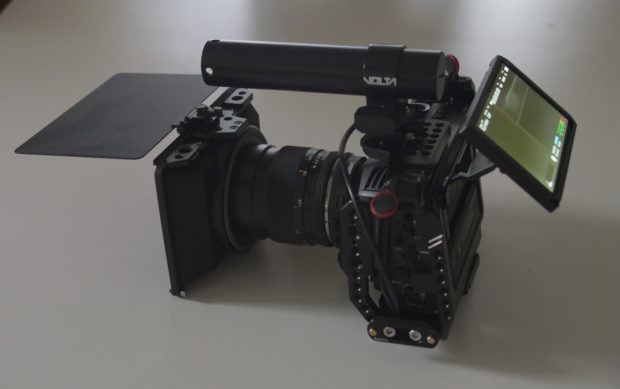 Small, lightweight, high quality

The Blackmagic Pocket Cinema Camera 4K features a 4/3 image sensor with a 4096 x 2160 resolution and an MFT lens mount, allowing you to capture a wide dynamic range. Our camera has been modified with a tilt screen, use of SD m2 drives and a Voltacinma power handle which uses batteries of 3x the capactiy of the priginal LP-e6 batteries. Our camera comes with two SSDs of 2TB and 1TB respectively and 4 batteries which last 90 minutes each. We also have optional adaptors for PL, Nikon and EF lenses. Our EF mount is a Metabones 0.71x Ultra Speedbooster, giving you a wider angle of view and one extra stop of light.
Dual Native ISO : 400/3200
The Blackmagic Pocket Cinema Camera features dual gain ISO up to 25,600. The BMPCC4K is optimized to minimize grain or noise in images, while maintaining the full dynamic range of the sensor. The native ISO of 400 is ideal for scenes with on‑set lighting. The secondary high base ISO of 3200 is perfect when shooting in dimly lit environments.
Resolution and frame rates
The BMPCC4K can shoot in all standard resolutions and frame rates from HD up to DCI 4K. You can also shoot still photos at 8.8 megapixels. You can shoot up to 60 fps 4K DCI at 4096 x 2160 and in Ultra HD at 3840 x 2160. And up to 120 fps in 1080HD!
Ultra fast Post-Workflow : ProRes or BRAW
The BMPCC4K records using standard open file formats so you don't waste time transcoding media. Files are compatible with most post-production software so you can work with the software of your choice. Recording works in industry standard 10‑bit Apple ProRes files in all formats up to 4K or 12‑bit Blackmagic RAW (braw). Media files work on all operating systems SSD media can be formatted either in HFS+ (MAC) or ExFAT for both Windows and Mac compatibility.
* The BMPCC4K KIT includes: native M4/3 mount, a SmallRig cage and the ability to attach 15mm rods, two Samsung 2TB and 1TB SSDs, 4 Volta batteries (90min autonomy) which fit inside the handle.
Options: Kinothenik viewfinder, Metabones 0.71x Ultra EF Speedboster, PL or Nikon adpatores, SmallHD 502 monitor with SideFinder, shoulder pad, handles, V-Lock power plate.